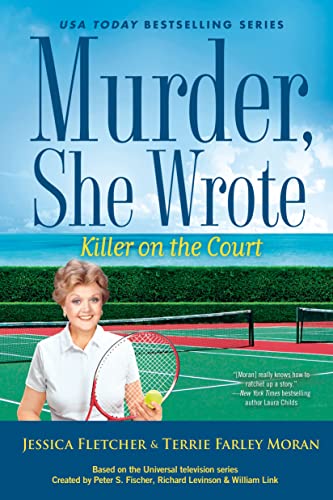 Jessica is delighted when her nephew Grady invites her to spend a few days with his family in an oceanside New York bungalow. She packs her bags and heads down to the city, ready to spend some quality time with Grady, his wife, Donna, and their young son, Frank. 
 
But the morning after Jessica's arrival, Donna finds her boss dead on a tennis court, and Jessica's dreams of a relaxing visit are quashed. Everyone in the small beachside community is a suspect, and the local authorities—headed by an old colleague of Cabot Cove sheriff Mort Metzger—have asked that no one leave town. Will Jessica be able find a killer and salvage the rest of her trip? 

---

Release Date: May 17, 2022
Series: Murder She Wrote
Book: 55
Publisher: Penguin Group
Imprint: Berkley 
Price: $14.99
---
Famous mystery writer Jessica Fletcher has just finished writing her latest book. She rewards herself with what she hopes will be a relaxing trip to New York's Rockaway Beach with her nephew, Grady, and his family. They are staying in a cottage owned by Grady's wife's bosses so it's awkward when they get caught in the middle of some of that wealthy family's drama. Things get even worse when one of the family members is murdered and Grady's wife, Donna, discovers the body. Luckily Jessica is there to work with local law enforcement to help bring a killer to justice.
I have enjoyed the Murder She Wrote novels for several years and was a fan of the television series. However, I think anyone who is new to either could still enjoy this cozy mystery. Jessica is such an appealing main character. She is a successful writer, but remains humble and down-to-earth. She is smart, observant, and kind, but isn't afraid to express her opinion. The mystery was interesting and fans of Agatha Christie will appreciate members of a powerful family in conflict leading to several suspects in the murder. The book has a nice, even pace with a great balance between the time Jessica takes to investigate and the time she is able to spend unwinding at the beach. The family scenes with Jessica, Grady, Donna, and her great-nephew Frank are so engaging and descriptive.I wish I could have walked along the boardwalk, fished, and attended art camp with Jessica and 10-year-old Frank! Grady has really matured since his early appearances in the series andI liked getting to know him and his family better in this story.
A few clues were given, but even more red herrings were included in the story. I was surprised when the identity of the murderer was revealed, but was satisfied with the way the book ended. This is the third book in the series written by Terrie Farley Moran and I enjoy her style of writing. Although Jessica didn't spend much time in Cabot Cove in this book, I still like Moran's portrayal of the main characters of Jessica, Dr. Seth Hazlitt, and Sheriff Mort Metzger. I enjoyed this book from the beginning to the end and highly recommend it to anyone who likes a good cozy mystery, especially fans of this series.
~ Christine