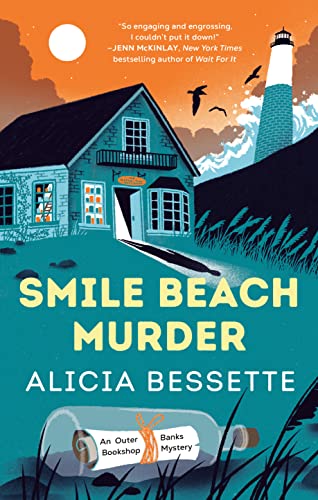 When Callie is laid off from her reporting job, she returns to her hometown of Cattail Island and lands a gig at the local bookstore—the same one where she found comfort after her mother died. 

In fact, the anniversary of her mother's infamous death is approaching. Years ago, Teri Padget tumbled from the top of the lighthouse. As islanders are once again gossiping about the tragedy, devastating news strikes: the lighthouse has claimed another victim. Eva Meeks, of Meeks Hardware. 

The police are calling it suicide, but Callie does not believe Eva jumped any more than she believes her mother did—especially because Callie knows that before her death, Eva had dug up a long-forgotten treasure hunt that could have put a target on Eva's back. 

In Callie's search for answers, she enlists the help of some beloved books and several new friends, including the handsome local martial arts instructor, Toby Dodge. But when another death rocks Cattail Island, Callie must face her fears alone. As she earns enemies in pursuit of the truth, Callie knows she will either uncover the killer or become a victim herself.

---

Release Date: May 10, 2022
Series: Outer Banks Bookshop Mystery
Book: 1
Publisher: Penguin Group
Imprint: Berkley 
Price: $14.99
---
Callie Padgett returns home to Cattail Island after being laid off from her job as a newspaper reporter and gets a job working at the local bookstore. Callie ends up investigating the death of an old acquaintance, Eva Meeks, who fell from the top of Cattail Lighthouse. The local police department thinks her death was a suicide, and although she hasn't seen the woman in years, Callie is sure Eva wouldn't have taken her own life. Eva had everything to live for, including her twelve-year-old daughter, her community causes, and her obsession to locate a pirate's treasure. Callie relates to Eva's situation because of a tragedy in her own past and is determined to find out the truth about the woman's death.
Smile Beach Murder is the first in the new Outer Banks Bookstore Mystery series. I like the premise of a bookstore on a North Carolina island . However, Callie, the main character, doesn't  want to be on the island, much less working in the bookstore. The fun of having a cozy mystery set in a bookstore is to share the love of reading with characters in the book. Callie's attitude of not really wanting to be there didn't make her a pleasant character to spend time with and no joy of reading came through.
The positive part about the bookstore setting is there are several shoutouts to some great books and authors, like Agatha Christie and Mary Higgins Clark. Although Callie's heart is in the right place looking into what really happened to Eva, I didn't connect with her character. Callie has good instincts, but when asking questions about Eva's death, Callie often does it in a pushy way that sets people on edge and it didn't endear her to me, either. There is a dramatic confrontation with the killer at the end and I was surprised by who it was, but the motive was a bit of a letdown to me as was the final conclusion of the book.
On the positive side, I like that the book was broken into many short chapters which helps move the story along at a steady pace. Hopefully, Callie will feel more comfortable being back in her hometown and open up more to potential friends in future books. I also liked the victim's daughter, Summer, and the talks Callie had with her. I think with the beach setting and the bookstore whose cat has lots of personality, there is a lot of potential to this series.  
~ Christine