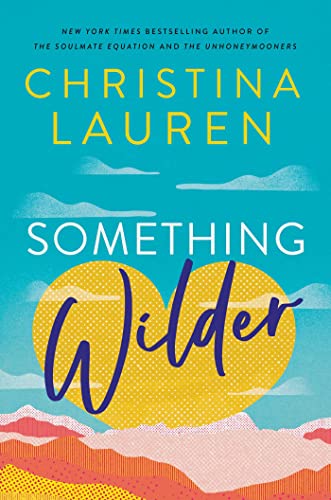 Growing up the daughter of notorious treasure hunter and absentee father Duke Wilder left Lily without much patience for the profession…or much money in the bank. But Lily is nothing if not resourceful, and now uses Duke's coveted hand-drawn maps to guide tourists on fake treasure hunts through the red rock canyons of Utah. It pays the bills but doesn't leave enough to fulfill her dream of buying back the beloved ranch her father sold years ago, and definitely not enough to deal with the sight of the man she once loved walking back into her life with a motley crew of friends ready to hit the trails. Frankly, Lily would like to take him out into the wilderness—and leave him there.

Leo Grady knew mirages were a thing in the desert, but they'd barely left civilization when the silhouette of his greatest regret comes into focus in the flickering light of the campfire. Ready to leave the past behind him, Leo wants nothing more than to reconnect with his first and only love. Unfortunately, Lily Wilder is all business, drawing a clear line in the sand: it's never going to happen.

But when the trip goes horribly and hilariously wrong, the group wonders if maybe the legend of the hidden treasure wasn't a gimmick after all. There's a chance to right the wrongs—of Duke's past and their own—but only if Leo and Lily can confront their history and work together. Alone under the stars in the isolated and dangerous mazes of the Canyonlands, Leo and Lily must decide whether they'll risk their lives and hearts on the adventure of a lifetime.

---

Release Date: May 17, 2022
Heat Level: Sensual
Publisher: Penguin Group
Imprint: Berkley 
Price: $12.99
---



Once upon a time, Lily lived a different life. One where she would be running her ranch with the man she loves. Life changed and she is now using her father's old treasure maps creating mystical tours for people. She just never anticipating her next tour guide would be with her ex and his friends. Can she really get through this without having an emotional break down?
Leo has always regret losing Lily. Now he sees this as his opportunity to gain her trust back. The problem is that is more difficult than he thought. The past is more complicated than he could have imagine. He is determined and I give him that.
The slow reveal of the past event drove me insane. I think that it took away from the romance which is severely lacking in this book. The outrageous trip and mystery took over and while it is interesting for the most part, I miss the normal push and pull of a second chance romance that I normally get. That's the best part of reading a second chance romance. Readers need to connect to the couple and get glimpse of why they were lovers in the first place. Then when we discover why they broke up, it just fell short.
The action and wildly crafted puzzles are entertaining but sadly enough not to hold my attention as a romance novel. It is just too over the top and I didn't want to have to imagine that hard. I did like the secondary characters.
It is a light and quick read for fans who like their romances light and heavier on the action and drama.
~ Samantha