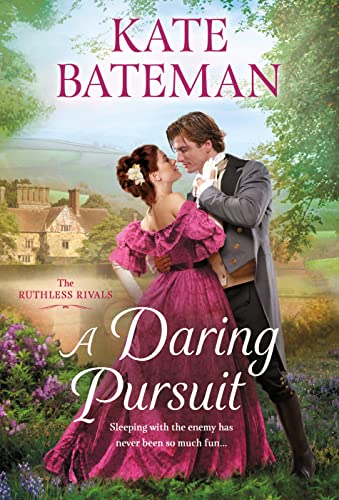 TWO ENEMIES
Carys Davies is doing everything in her power to avoid marriage. Staying single is the only way to hide the secret that could ruin her—and her family—if it was revealed. For the past two seasons she's scandalized the ton with her outrageous outfits and brazen ways in a futile bid to deter potential suitors. Outwardly confident and carefree, inside she's disillusioned with both men and love. There's only one person who's never bought her act—the only man who makes her heart race: Tristan Montgomery, one of her family's greatest rivals.

ONE SCANDALOUS BARGAIN
Wickedly proper architect Tristan needs a respectable woman to wed, but he's never stopped wanting bold, red-headed Carys. When she mockingly challenges him to show her what she's missing by not getting married, Tristan shocks them both by accepting her indecent proposal: one week of clandestine meetings, after which they'll go their separate ways. But kissing each other is almost as much fun as arguing, and their affair burns hotter than either of them expects. When they find themselves embroiled in a treasonous plot, can they trust each other with their hearts, their secrets…and their lives?

---

Release Date: May 24, 2022
Series: The Ruthless Rivals
Book: 2
Heat Level: Hot
Publisher: Macmillan
Imprint: St. Martin's Press
Price: $8.99
---
You ever read a book that just lives up to the blurb? The book that reminds you of the reason why you love reading romances? A Daring Pursuit by Kate Bateman is that book for me. Bold, funny, sexy and just downright entertaining.
Carys Davies is hiding a secret from everyone. She is riddled with fear of being discovered so she hides in plain sight from everyone…well at least she thought. Tristan Montgomery definitely sees Carys and when he discovers her secret, it just draws him a bit closer.
Tristan has always liked Carys but the bickering between their families never helped. However, after discovering her secret, he proposes that for them to become more "friendly" towards one another. 
Tristan has jerk-like tendencies at times but he is still smoldering. I like how he defended Carys and took his time to get to know her more. Carys is a sweet character trying to maintain her dignity and I enjoyed her rediscover herself more.
The tension and animosity between the two families is still there despite the two families blending from marriage (book 1). It did take a bit to get to the real meat of the story but the author has to set up the tension in order to make it a great enemies- to-lovers trope that I love.
Can I just say the sexual tension was just as great as well? The sneaking around was sexy. Tristan wanted to make sure Carys knew the art of seduction. The sex scenes made their connection stronger. The only thing is the author relied heavily on the sexual tension to reflect that the characters were falling in love instead of the natural process of them getting to know one another.
Since I haven't read a book by the author, I can not wait to go back and read it. I don't pick up historical romances as much but I'm so glad I did. Fans of historical romance and/or enemies to lovers trope will enjoy this story.
~ Samantha