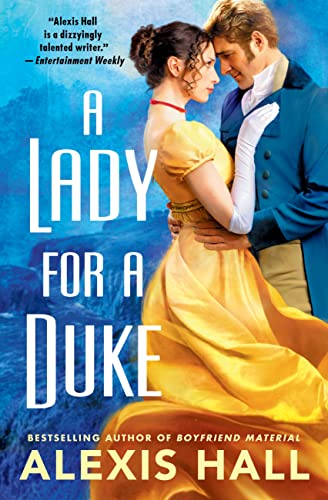 When Viola Carroll was presumed dead at Waterloo she took the opportunity to live, at last, as herself. But freedom does not come without a price, and Viola paid for hers with the loss of her wealth, her title, and her closest companion, Justin de Vere, the Duke of Gracewood.

Only when their families reconnect, years after the war, does Viola learn how deep that loss truly was. Shattered without her, Gracewood has retreated so far into grief that Viola barely recognises her old friend in the lonely, brooding man he has become.

As Viola strives to bring Gracewood back to himself, fresh desires give new names to old feelings. Feelings that would have been impossible once and may be impossible still, but which Viola cannot deny. Even if they cost her everything, all over again.

---

Release Date: May 24, 2022
Heat Level: Hot
Publisher: Grand Central
Imprint: Forever
Price: $10.99
---
This one ripped my heart out and then put it back together.
Hall hits home with a whopper in this story about a lady who reconnects with her best friend in the middle of a crisis. Though said friend believed she was dead.
His Grace, Justin de Vere, believed his best friend to be dead until Viola Carroll appears. She was his past, no living in her new future and he's a shadow of his former self without her. But can they recover from the scars of war and the results of their losses?
Viola is adorable in her hesitance and how she navigates her new life. Though I'll admit tearing up a bit as she encounters Justin and is exposed to the reality of how her 'death' affected her best friend. Justin is equally tortured, first by the loss of this friend and the discovery that Viola is alive. Justin made my heart break all over again. He's riddled with guilt, suffering from physical injury, and believes himself to be a shadow of his former. Much of this story is how Viola and Justin learn to be comfortable in their new selves, along with finding closer connection then they expected.
Of course, there is a villain in this story and while he hides in the shadows for a good portion, the only reason this book didn't get a higher rating from me is because I felt the villain didn't get punished enough.
The end of the story is satisfying, the romance sweeping, and my heart was re-made with Viola and Justin finding new purpose and a future together.   
For those who love historical romance with sweeping tales and others who enjoy Carolyn Jewel, I highly recommend A Lady For A Duke.
~ Landra