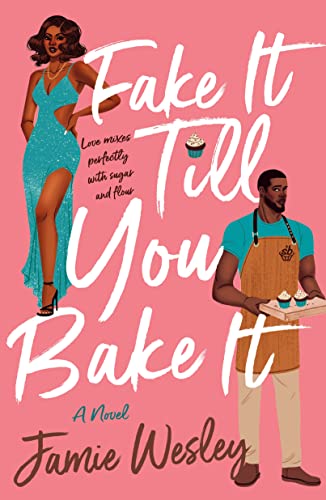 Jada Townsend-Matthews is the most reviled woman in America after turning down a proposal on a reality dating show. When she comes home to lick her wounds, Jada finds herself working at San Diego's newest cupcake bakery, Sugar Blitz, alongside the uptight owner and professional football player Donovan Dell.

When a reporter mistakenly believes Jada and Donovan are an item, they realize they can use the misunderstanding to their advantage to help the struggling bakery and rehabilitate Jada's image. Faking a relationship should be simple, but sometimes love is the most unexpected ingredient.

---

Release Date: Jun 21, 2022
Heat Level: Sensual
Publisher: Macmillan
Imprint: St. Martin's Press
Price: $10.99
---
A new football romance series I won't be able to resist.
This was my first Wesley book, and it won't be last. Three football players owning a bakery and the women who they fall for, what's not to love? This first book is about the main manager, Donovan and the reality television star Jada. These two are opposites attract with a hefty dose of can't resist.
While the only downer to this book is the slow start, took me about three chapters to really since into the story, Wesley quickly changes tactics and soon I was committed to the game Jada and Donovan have playing. A little fake relationship to feed into Jada's reasons for why she left the hero of her "Bachelor-esque" reality show stranded, and in turn bring more popularity to Donovan's business. Naturally, falling in love along the way isn't the goal, but they can't stay away from each other.
Characterization is so key in this story and Jada is written to perfection, everything include the walls she builds to protect herself, that bougie exterior, and her deeply-entrenched insecurities were so easy to latch onto and empathize with. I wanted Jada to succeed at everything, including a future with Donovan Dell. Said football player brings plenty of his own to the table from fear of a relationship stopping him from his primary focus. Did I mention Jada is the daughter of the woman who owns the football team Donovan plays for? Drama for miles, ladies and it's so worth it.
Add in a couple villains who are double icky, and they get theirs. Every reader of this blogs knows how I like my villains treated, with a good, tall glass of retribution. They get it. And Wesley sets up the future books in this series with precision. I can't wait to read the next one.
Overall, a great contemporary sports romance that has a good balance of drama, jokes, romance, and tropey goodness. For readers who enjoy Lyssa Kay Adams.
~ Landra