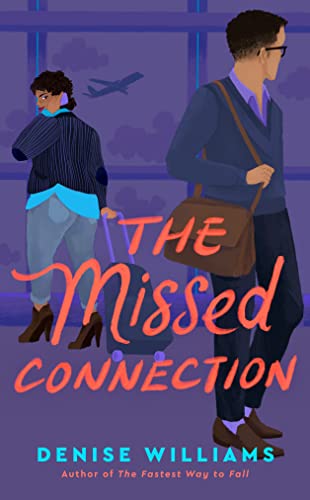 Gia loves her job as a professor, even when it means dealing with an elusive rival academic who's made it his mission to criticize her work. When she meets him for the first time, she's shocked to learn they've met before. Months earlier, they shared a perfect New Year's Eve together in an airport during a weather delay.

After months of working together, Felix still can't believe the person whose research he's been challenging is the same captivating woman he kissed that night. The two couldn't be more different. Gia is bubbly, friendly, and extroverted and drives ordered, serious Felix nuts. 

Now the two have been assigned to embark on a five-school tour for work. Gia and Felix can't imagine a travel partner they'd enjoy less until they feel the sparks fly over their shared armrests, security mishaps, and a shared hotel room. They'll need to decide if they can manage their professional tension, or risk missing the connection of a lifetime.

---

Release Date: Jun 21, 2022
Book: eNovella
Heat Level: Sensual
Publisher: Penguin Group
Imprint: Berkley 
Price: $1.99
---
Gia is stuck in the airport on NYE after a break up with her girlfriend. She kind of want to sulk in her misery but she meets this interesting guy whom she shares a connection with. Gia pushes all that aside when she returns home and focuses on her work. The problem is that her rival professor is the same man she met in the airport.
Felix is rather shocked to see Gia at work. They are assigned to make a few tours across country to various schools. The two seem to be at odds with each other professionally but personally the connection they felt before is resurfacing. How can they balance the two emotions?
I like the stark contrast in their personalities. Gia is very warm and kind. Felix is a bit of grumpy. At times, I did feel like the author wrote Felix too good because I didn't always connect with him as Gia's love interest. I would have liked more scenes focusing on the romantic element of the story.
I love that these are two characters of color in STEM. Lately, I've been enjoying romances that show smart, strong women in STEM. Gia definitely wanted to be taken more seriously and I could feel her frustration at times. The work dynamic plays a small portion of the story but doesn't distract from the overall tension that the author displays.
This a cute novella with quirky smart characters that you will end up liking. Overall, I recommend for fans who want something quick to read on a lazy summer day.
~ Samantha