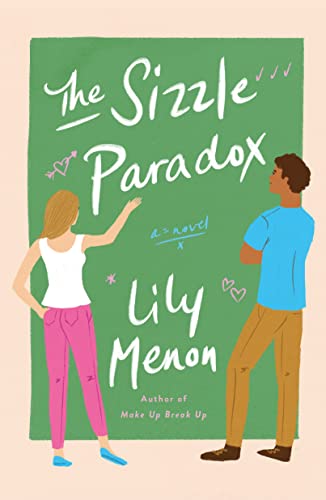 Lyric Bishop feels like a fraud – she's studying sexual chemistry in romantic partners and what makes for a successful long-term relationship, only she can't seem to figure it out in her own dating life. The science is sound, but how can she give her expert opinion with no real-world experience? In order to complete her doctoral thesis, she must crack the Sizzle Paradox – it seems the more sexually attractive she finds a guy, the less likely it is to come with an emotional connection; but why? – and to do that she must get the help she desperately needs.

Kian Montgomery, her best friend, roommate, and fellow grad student, has no trouble bringing both romance and sizzle to his own relationships. When he offers to tutor Lyric on dating tactics to find a good match, she's certain it will solve her problems, and in exchange she agrees to set long-term-commitment-averse Kian up with someone different to give his romantic life a much-needed shakeup.

But once the two progress with their "tutoring sessions," they start to feel less like the academic exercise they were supposed to be as real feelings develop. Which is a problem, because Lyric and Kian are best friends and absolutely, irrefutably nothing else… Right?

---

Release Date: Jun 28, 2022
Heat Level: Sensual
Publisher: Macmillan
Imprint: St. Martin's Press
Price: $10.99
---
Lyric is a grad student looking for ways to support her thesis on The Sizzle Paradox. The premise is that sexual chemistry in a romantic relationship can make for a successful relationship. The problem is that Lyric has never experience this and her current dating life sucks. She enlists her roommate and best friend, Kian, to help her.
Kian agrees to tutor Lyric on relationships and chemistry.as the two spend more time together, they realize that their relationship may be more than just a friendship. The want to fight it but sometimes emotions outweigh logic.
The friends-to-lovers trope just fall short in this one. The connection between the main characters is there but more like friends. I don't know if it is because they started off as friends or the rationale for them to dabble into a romantic relationship didn't hold up for me. Either way, the romantic and sexual chemistry is lacking. Not to mention, they are constantly reminding everyone and themselves they are friends.
My biggest pet peeve that an author does is just throw in silly miscommunications. This one had it which is mind boggling since they are best friends. How can they not know how to communicate with each other? Yes, one can argue that once they cross over to lovers the dynamics can change. However, the type of friendship, they had leaves little to no room for that argument.
Overall, this is cute at times, but it leaves no memorable moments. Fans of STEM romance or the friends-to-lovers trope may want to give this a chance.
~ Samantha