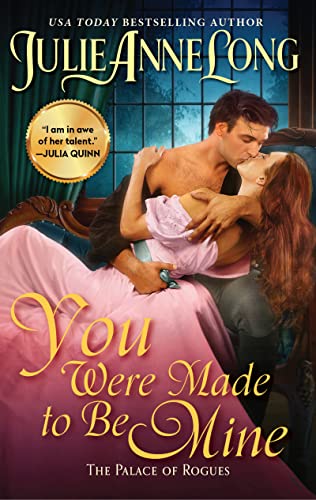 The mission: Find the Earl of Brundage's runaway fiancée in exchange for a fortune. Child's play for legendary British former spymaster, Christian Hawkes. The catch? Hawkes knows in his bones that Brundage is the traitor to England who landed him in a brutal French prison. Hawkes is destitute, the earl is desperate, and a bargain is struck.
Fleeing a savagely shattered dream, the sheltered Lady Aurelie Capet finds refuge in an alias and the warmth and kindness of the Grand Palace on the Thames—until a gorgeous, mysterious disturbance to her peace literally topples through the door.
An unexpected, fierce desire that feels destined, dangerous—and devastatingly sweet—ignites between the sheltered beauty and the jaded spy, and as they slowly unravel each other's shocking secrets Hawkes closes in on the truth about the earl. Soon it's clear they can have no future without vanquishing the past: Hawkes knows that loving her means avenging her. Aurelie knows that loving Hawkes means freeing him to do that, no matter the cost.

---

Release Date: Jun 28, 2022
Series: The Palace of Rogues
Book: 5
Heat Level: Sensual
Publisher: HarperCollins
Imprint: Avon Books
Price: $5.99
---
"She had never been so noticed. She had never been so wanted. She had never felt so womanly. She had never been an obsession.  And this made her feel like a heroine in a story. And she'd thought: Surely such things added up to love? She'd once watched as a spider wrapped a fly round and round in a gossamer-sticky silk and wondered- at what point does the fly realize they can no longer move?"
Lady Aurelie Capet flees from her fiancé, the Earl of Brundage, after an altercation where she finds his true character lacking. Christian Hawkes has spent the last three years in prison after he was so close to discovering the Earl of Brundage's top secret money smuggling scheme. He wants revenge on the man who ruined his life, and when Brundage hires Christian to find his fiancé and bring her home he finds the perfect way to enact his revenge.
Julie Anne Long was one of the very first historical romance writers that I read, and some of the characters from her Pennyroyal Green series hold a special place in my heart. I have been waiting and hoping that this new series would bring back the magic that I felt when I read It Happened One Midnight, but so far I have been disappointed. Are they badly written books? No. I wish I could tell you why I am not connecting to them. The characters are fine. The plot is fine. The writing is fine. I just want it to be something more than fine, and I know that Julie Anne Long is capable of being brilliant.
I want to feel all the romance and the heart. I want to see the characters' undeniable chemistry explode on the page. I want the focus to be back on the main couple. None of that happened in this book, and it left me feeling a little sad. I hope that she can bring just a little bit of the magic she is capable of creating into the next story!
If you're a fan of authors like Caroline Linden and Olivia Parker then maybe give this one a shot. It may work better for you than it did for me.
~ Michelle