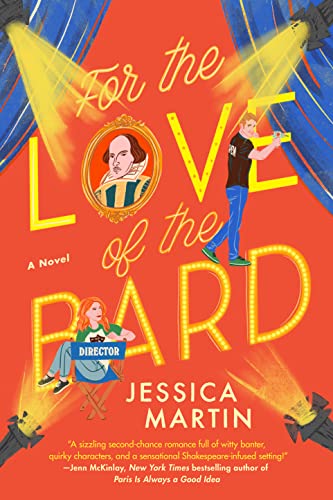 Literary agent and writer Miranda Barnes rolls into her hometown of Bard's Rest with one goal in mind: to spend the summer finally finishing her YA novel, the next installment in her bestselling fantasy series. Yet Miranda's mother, deep in the planning stages for the centennial of the town's beloved annual Shakespeare festival, has other ideas.
Before you can say "all's fair in love and war," Miranda is cornered into directing Twelfth Night—while simultaneously scrambling to finish her book, navigating a family health scare, and doing her best to avoid the guy who broke her heart on prom night.
When it comes to Adam, the veterinarian with a talent for set design and an infuriating knack for winning over Miranda's dog, the lady doth protest too much. As any Shakespeare lovers knows, the course of true love never did run smooth, and soon Miranda realizes she'll have to decide whether to trust Adam with her heart again.

---

Release Date: Jun 28, 2022
Series: Bard's Best Romance
Book: 1
Heat Level: Warm/Sensual
Publisher: Penguin Group
Imprint: Berkley
Price: $9.99
---
"'Well, you needn't worry about anything. There's nothing left between Adam and me; we're just working on the same project.' I wanted to believe that more than anything, because the thought that I might still be hung up on a guy who broke my heart back in high school with an assist by my big sister- well, that added a Havisham dash of tragic to my already anemic love life that I was wholly unprepared to deal with."
Miranda Barnes moved away from home to pursue her career as a writer and a literary agent, but when her mom gets some unwelcome health news Miranda runs home to help her family. Her mom seems to think that her health can wait until the town's centennial bash is over before getting a lump checked out, but Miranda makes her a deal she can't pass up. Get her lump biopsied, and she can read an early copy of Miranda's newest book before it comes out. Somehow, her mom also convinces Miranda to help plan the centennial celebration. This puts her in direct contact with the boy who broke her heart in high school, Adam, and he is ready to show her that he is no longer the boy she remembers but a man who knows what he wants.
I am not sure why this book is being marketed as a romance when the majority and focus of the story isn't necessarily the romance. There is so much going on with Miranda having trouble writing her new book, her mom's cancer diagnosis, helping with the town centennial. Add in some sister drama plus the animosity between Miranda and Adam, and it made for a very plot heavy book.
I was expecting a much lighter read, and if that is what you are looking then this probably isn't going to be the read for you. I loved Miranda and her tough exterior. She used her humor as a weapon to protect herself from Adam, but it was no use with their history. They were destined to finish what they started in high school no matter if she wanted to or not.
Adam might have made stupid mistakes in the past, but I loved to see how he grew into an adult. I think my biggest complaint for this story is that it felt unresolved. We never get to find out what happened with Miranda's mom. I wish there would have been a time jump epilogue where we could catch up what was going on with that situation. It just ended very abruptly. I think that was the one big plot point that was left hanging, and it didn't sit right with me.
If you like books by Emily Giffin and Sophie Kinsella then this book might be something that you would enjoy!
~ Michelle