Today I'm back and talking covers again. And yes, it's because I'm holding the Best Historical Romance Cover Contest over on the website . (Oh, and don't forget to vote).  The contest got me thinking about the one thing that hits readers first. The cover.
Now, I initially set out to do a different kind of post. I was going to put up several beautiful eye catching covers and give my reasons why I think they work. But Katiebabs did a wonderful post on that earlier this week (check it out), so I thought I'd approach this from a different angle. I'll go back, hmmm, oh, about 32 years  to the Mother of romance, Harlequin Books. So how have Harlequin Historical covers evolved, you ask? Take a look.
Starting from the left, we have a 1977 cover from Harlequin Historical. The first thing I noticed about the cover of THE RUNAWAYS was the man. Is it me or does he look…well, dare I say, old? But when I looked back on that time in Harlequin's history, the hero was always much, much older than the heroine. I remember in the Presents line, no one blinked an eye at a 19 year-old heroine with a man twice her age. You don't see that May/December kind of thing  in contemporary romances anymore.

Skipping ahead 10 years to 1987, you see that Harlequin has adopted a slightly different look with their covers. A decade didn't change the way the hero always seems to be assisting the heroine as she goes into a swoon. Harlequin also appeared partial to the bottom image of the embracing couple (Note castle and ship) Our hero of BUCCANEER BRIDE is sporting a full beard and mustache. You don't see that often. But then he is a buccaneer and probably has little time or desire to shave. And as mediums go, Harlequin seems to have moved away from something that looks more like water color paintings to sharper, more vivid oils.
In 1992, we see from THE BANDIT'S BRIDE, Harlequin's preference is now a large top picture of the heroine, and below, the embracing couple (embracing means they love each other). And is it just me or does the cover even look historical? Her hair, their clothes? I'm only now realizing the initial reason I thought it looked dated was because I was thinking in terms of a contemporary. Yes 1992 was fifteen years ago but this should look a lot older then that by some, hmmm, 100 years.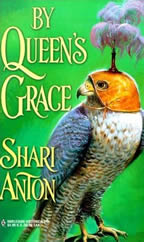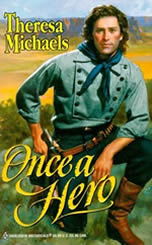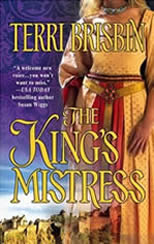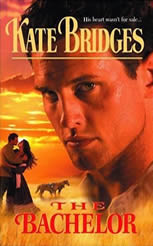 In the year 2000, they gave us BY QUEEN'S GRACE and ONCE A HERO. The bird? Well, I have no words as I'm sure there is a logical reason that everyone gave a thumbs up on the bird. (No, not give them the bird!) And have you ever seen a more earnest boyscout–I mean cavalry soldier? I say he's a true hero indeed.

In 2005, on the cover of Terri Brisbin's THE KING'S MISTRESS, they moved to chopping off heads. What survived. Yep, that second lower image, and we've moved away from the embracing couple back to background scenery (remember the ship and castle from 77 and 87). That same year, Kate Bridges' THE BACHELOR hit the shelves. I like this one. The hero is handsome, appears properly dark and brooding, and look at the lovely nature scene in the background, yes with the embracing cover (which, apparently they have not abandoned as I first thought). I've come to this conclusion, Harlequin loves nature scenes and the clinch. And who can blame them, right? I love 'em too.

Now in 2009, starting with the November covers, Harlequin Historical has gotten a gorgeous update and upgrade. The covers are, simply put, beautiful, the colors deep and vibrant. Sophia James' MISTLETOE MAGIC makes me feel all Christmasy (Yes, it's a word. Look it up.) However shallow this will sound, I'd buy this book simply because the cover shouts, 'The Holidays are Here!"  And Amanda McCabe's THE WINTER QUEEN, on top of having a fantastic title, and even with the chopped off head, what an absolutely breathtaking period dress; the color just pops! Even the fonts and the backdrop for her name is perfection. I love, love, LOVE what Harlequin is now doing with their covers. I'm also loving the new gold and burgundy HH ribbon hanging so decorously in the top left-hand corner. *Sigh*  They definitely have come a long way…
So what do you think of the evolution of Harlequin Historical covers? Has anyone been reading them from their inception?
Two lucky commenters will receive either a copy of Amanda McCabe's A WINTER QUEEN or Sophia James' MISTLETOE MAGIC.
Next week I'll be mapping the evolution of  a certain author's covers, whose publishing homes span from Dell to Simon and Schuster.